Mr. Eagle Wilton Manors Judges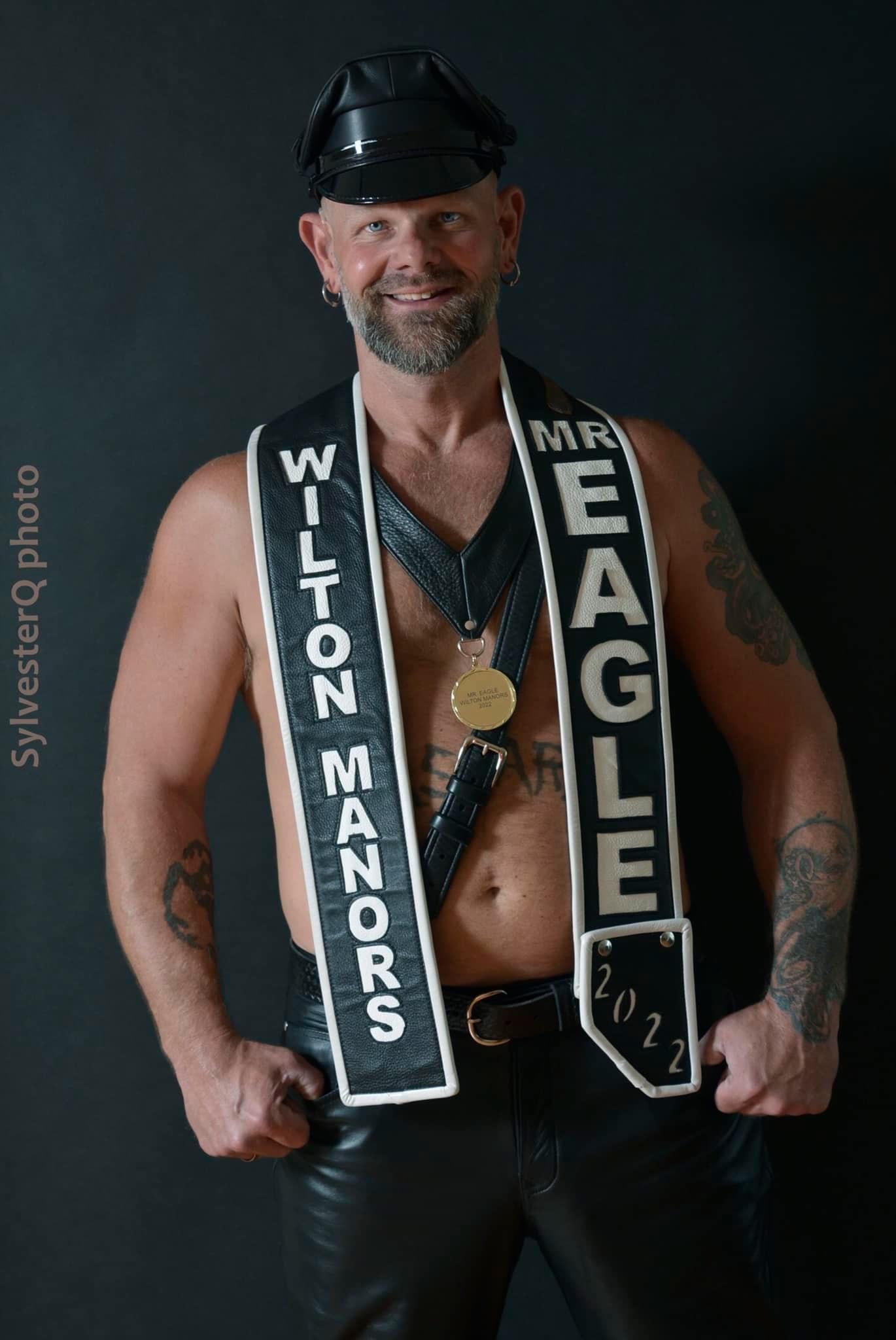 lueter Mr. Eagle Wilton Manors 2022 – Head Judge
Born and raised in South Florida, Fort Lauderdale. I have always been profoundly deaf since birth. I was born and raised in South Florida. I lived in South Florida until 2003 then moved to New York and moved back to South Florida in December 2016.
Hobbies & Interests: Macrame rope, wires, metals. Industrial wood products. Paracorde rope. Crafts, build wood shelves. Play sports. Hockey, Footballs. Workout at the gym. Enjoy walking on the beach. Gardens. Animal care- Teaching ASL with Hearing Service Dogs. Construction painting, dry walls, etc.
Kinks: Sexual Practices Education, compromise with heavy leathers.
Hankey codes, eye contacts, and body languages. Sets up rules before entering into leatherplay.
 A challenge to Deaf and Hard of Hearing people is that the hearing community has a lack of recognition, acceptance and use of sign language in all areas of life, and lack of respect for their cultural and linguistic identity. It is challenging to be a leader and making sure to remind the hearing people speak slowly, repeat what they said, and understand that they don't have any education about deaf culture because the Deaf community is a very small part of the community. Speaking of leader as long I have access to an interpreter to help our communication efficiently without no misunderstanding.
Since I have been working with The Eagle bar as a security guard, they have accepted who I am with my disability, and we have become a great team and a family member of The Eagle. I Work hard and show who I am, and that deaf can do it. 
After I became Mr. Eagle WM 2022 it was great to experience the community and it was also very touching that I was chosen to be Mr. Eagle WM 2022. I'm always happy and looking forward to reach communities to grow more as the family that we choose. 
since winning the title Mr. Eagle Wilton Manors 2022. I have felt the love and warm wishes from the community of Wilton Manors, which supported me during my competition and during my title year. It has been an overwhelmingly wonderful experience so far; I have learned so much and completely enjoyed hosting my first fundraiser, and many more to come. I have had help from different organizations and my brothers and sisters in our leather community. There is a lot to learn but I am ready, and here to help everyone. I have been and will continue to work hard, assist where needed and always support Wilton Manors and our Leather Community.
I have also felt so inspired after winning the title, with the support from my family, the Eagle WM, staff and Management. They have always supported me in my work, and never treated me differently for being deaf, I like to think the opposite; they have encouraged me and supported me, and, employees, and management at our family of Eagle Wilton Manors.
Jeffrey Wayne – Judge
Mr. GayDays Leather
Jeffrey Wayne is the fifth and current Mr. GayDays Leather. He's a resident of Sonoma, CA where he lives with his partner and cat. He's a tailor by trade and an aspiring leather crafter. He's been an active player in the kink community for twenty years and a public figure in the San Francisco leather community for five years. He's a submissive specializing in impact play, role play, and BDSM.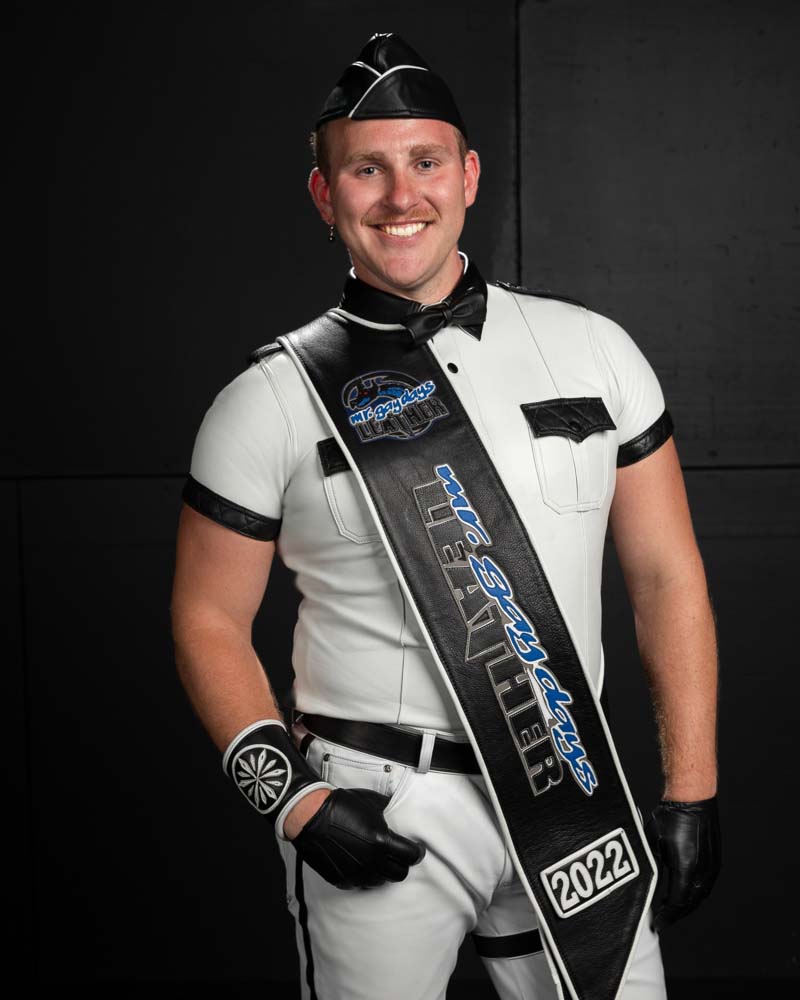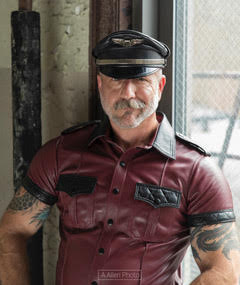 Edge – Judge
Edge is an author, mentor, teacher, amateur model, and hardcore player from Florida with 30 years of experience in the scene. His website, lthredge.com, was an early leather presence on the Web and he has since morphed into a social media presence on Twitter and Instagram, where he does short kink and leather educational videos, as well as a podcast, Full Cow: Edge Talks Leather and Kink.  In 2020, Edge stepped into the role of Florida Leather Sir, keeping the title alive during the pandemic. As his name and online moniker would suggest, he enjoys a wide range of edge play activities, from breath control to mindfuck, though he also has a passion for cigar scenes, clean Japanese rope bondage, and prolonged, intimate inner thigh beatings.
Dan Hunter – Judge
Mister Leather Colombia 2020
​Dan Hunter, Mister Leather Colombia 2020 was born and raised in Bogota, Colombia. He came to the United States at the age of 18 years old to find a not only a better life, but achieve his greatest goal which was to help others by working as a medical assistant.
Dan Hunter was elected Mr. Leather Colombia 2020 with the motivation to help empower others by being the best leatherman that he can be. He currently serves his community by volunteering in  most leather events all across the United States and providing a space for Latin folks to be comfortable in there own skin. Dan Hunter is a current member of BLUF NYC, Latin Men's of Leather and Leathermens of Colombia.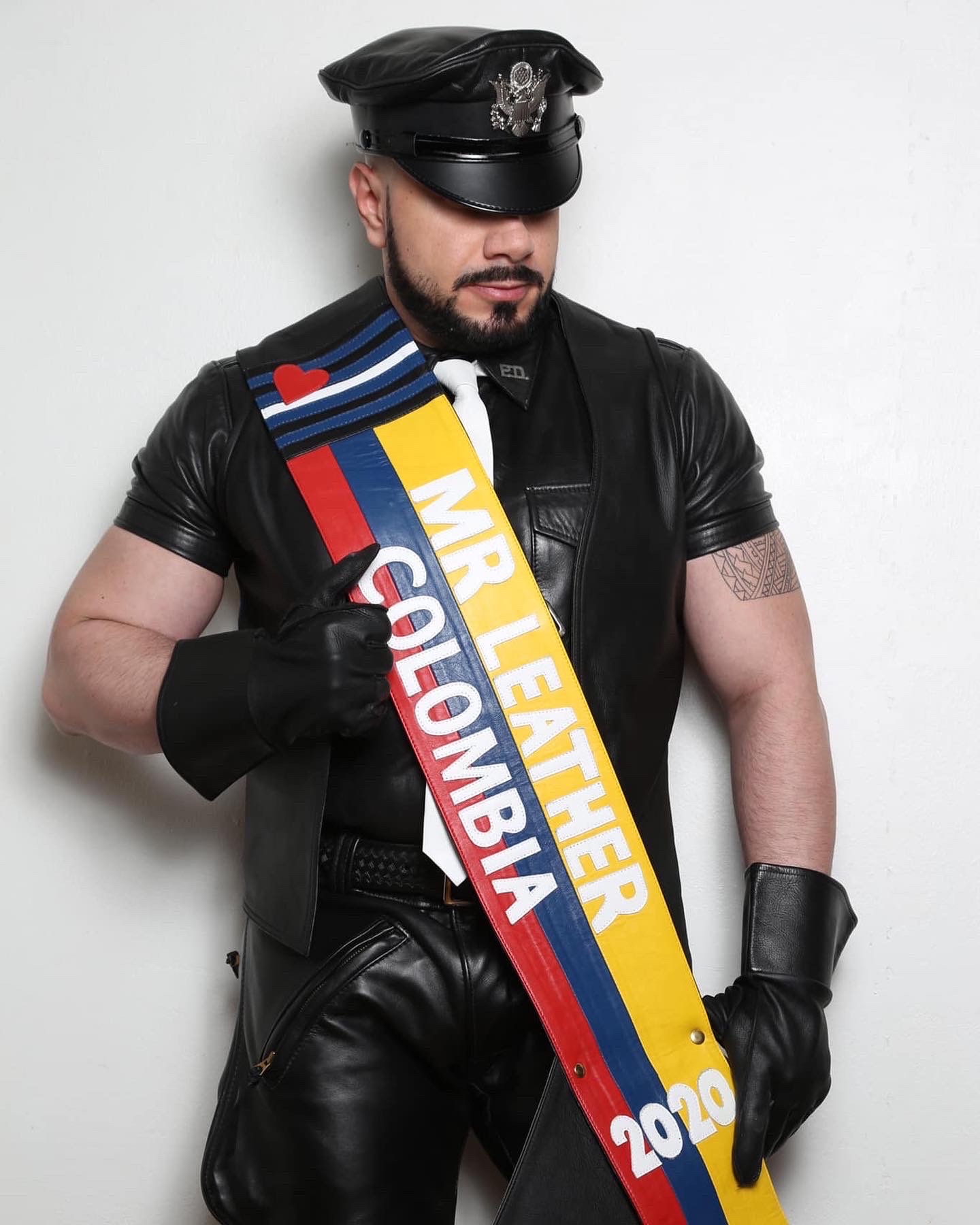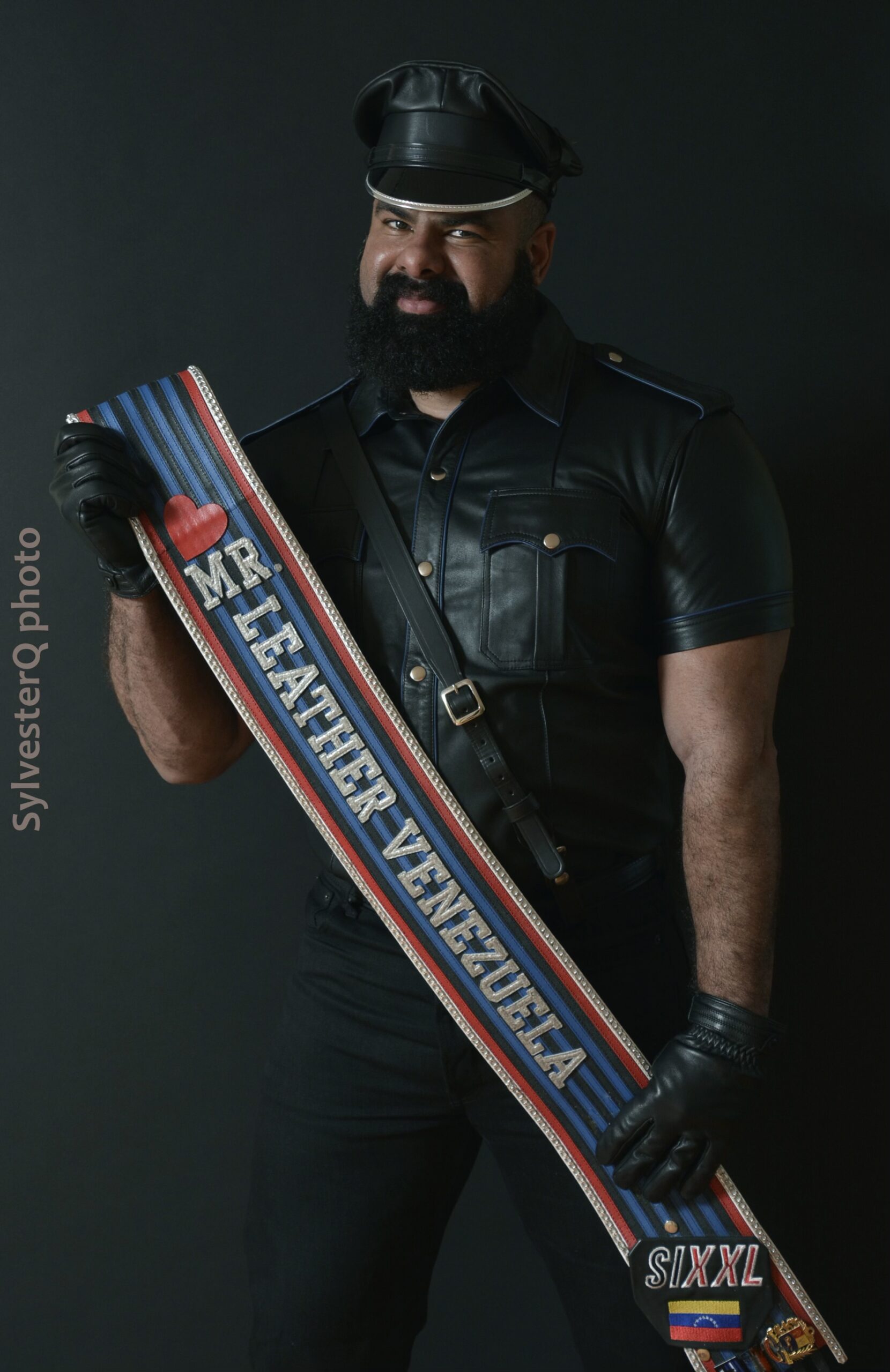 Oscar Quinto – Judge
Oscar Quinto born and raised in his native Venezuela and moved to USA in 2011. He become the second Mr Venezuela titleholder to compete in International Mr Leather making and impact in venezuelan and Latin community to explore about Leather culture. 
Oscar have been involved in several campaigns with leather clothing brands and ambassador for Prep use in the gay community.
His motto is "What you do for a living doesn't define you as a person". As a sex worker he wants to show that you can be kind and professional, as well help to the community. He donates 10% of his adult sites profit to Trans Life Help Line and Fight for HIV AIDS.
Pusckatt Pumera ONYX (he, him, his)
Mr. International Rubber 26
Pusckatt Pumera ONYX (he, him, his), Mr. International Rubber 26, is a Floridian who slipped
into the Shiny Rubber Community in 2019. Pusckatt identifies as a proud Rubberist and artist of
gender expression. Pusckatt has grabbed the kink community of Southern Florida and soon the
world by the balls and utilizes every moment to engage people on the topic of Kink.
Pusckatt, is the President of ONYX Deep South, a regional chapter of The Men of ONYX. He also
holds the title of Mr. Florida Rubber 2022, is a Board Member of Ujima Men's Collective, and an
active member of Stonewall Knights.
Pusckatt is passionate about building and giving back to the community. His community
involvement is extensive both in and out of the kink/fetish community. He has successfully
created safe spaces for BIPOC Rubberist to come together and fellowship with hopes of
increasing community engagement and deepening the sense of community for all.
Pusckatt, is Thankful for the endless love and support of his amazing Husband Vision Onyx.
Outside of the Kink/Fetish community, you can find Pusckatt riding his Harley Davidson
exploring new roads, cruising familiar highways, and developing friendships along the way.
Pusckatt also enjoys traveling, art and exploring new things.
Moto: StandOUT- Owning and Embracing your Power!
​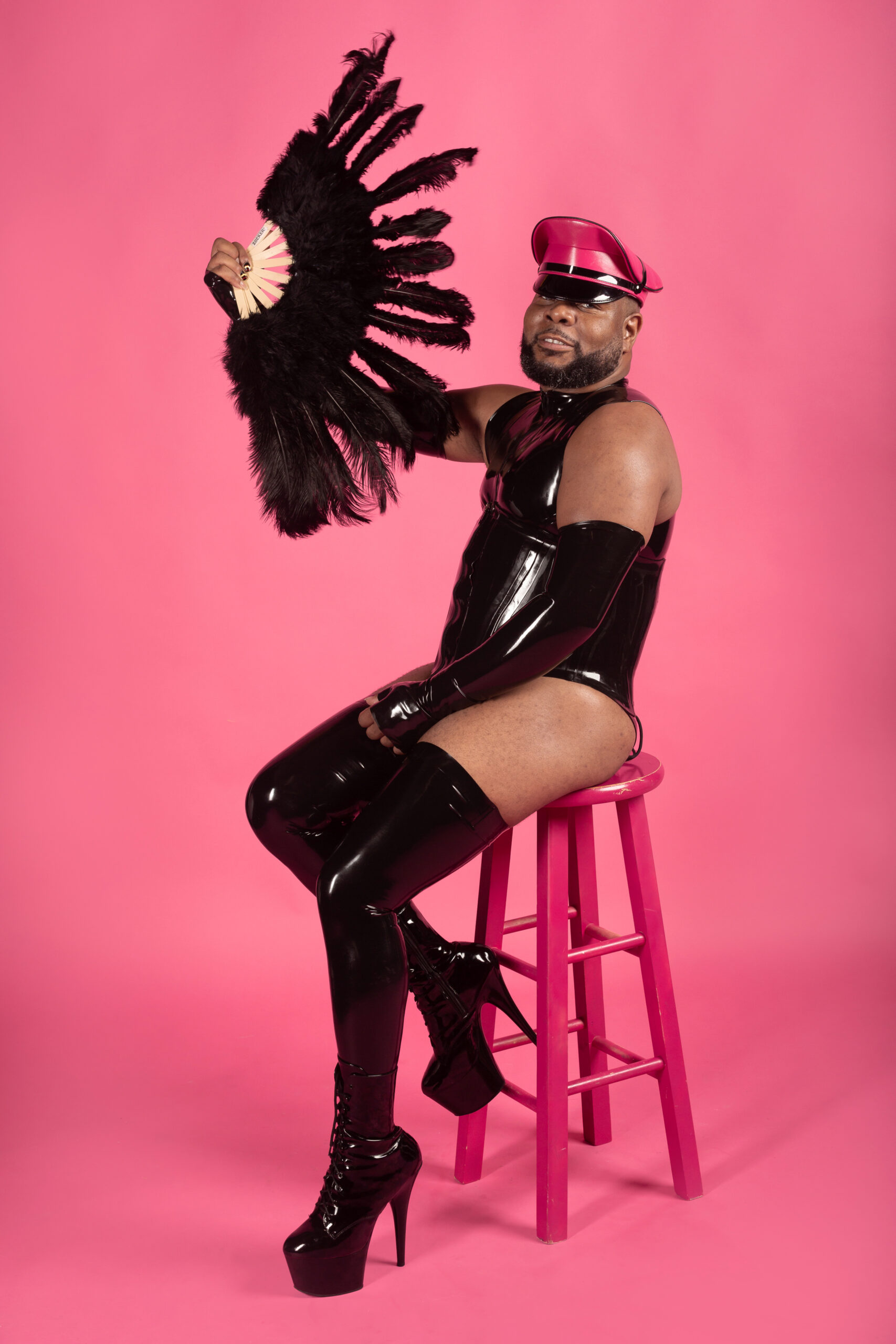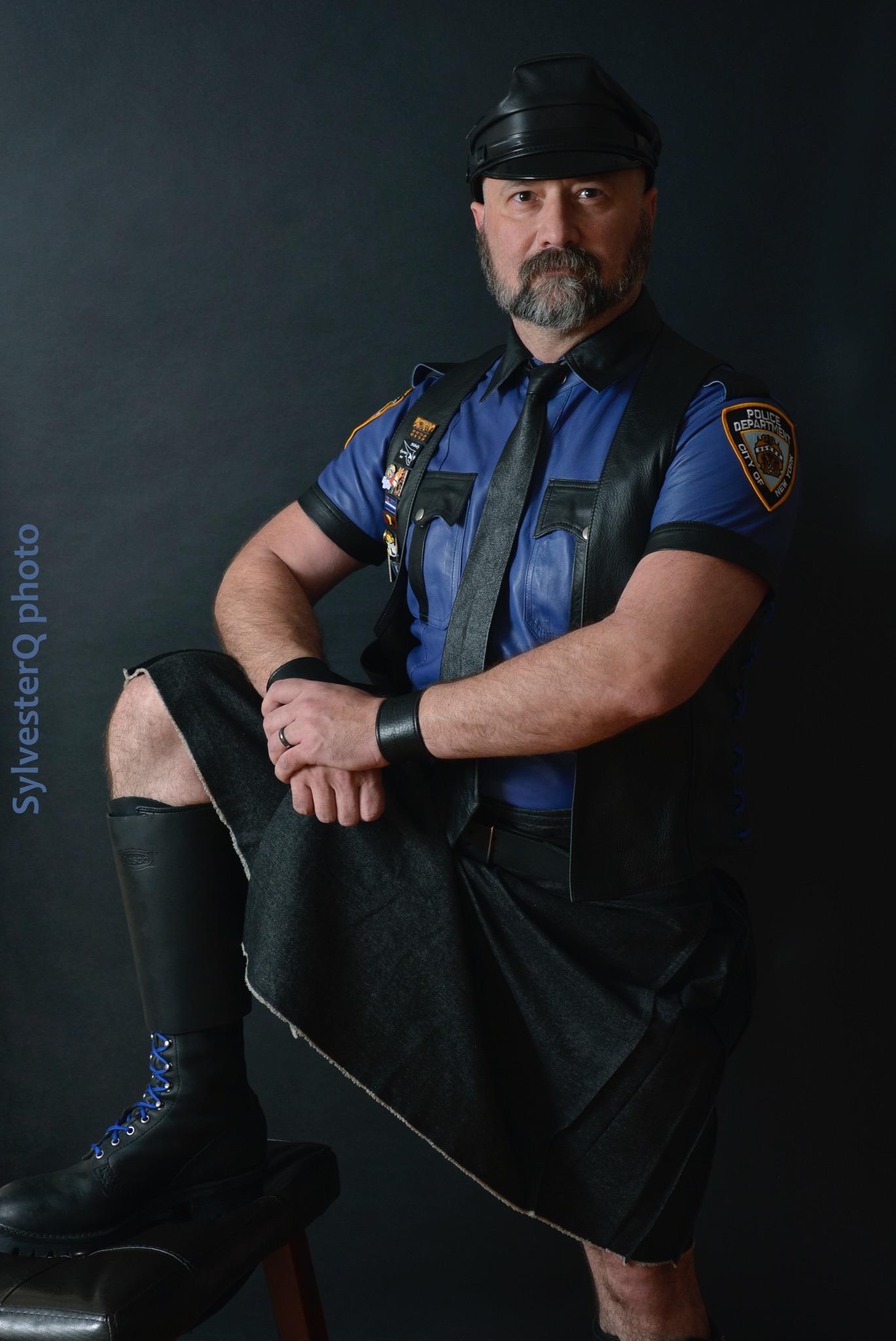 Your Florida Leather Sir 2019 – Judge
Your Florida LeatherSir 2019, Lawrence Fox has been involved in the leather community for roughly 25 years since being introduced to it by a boyfriend in Pittsburgh during a pride parade ("who are those hot guys over there you were talking to, think I'll go march with them").  He was the last new member/Secretary of Crucible MC in Pittsburgh and later joined Pittsburgh Motorcycle Club to serve as Treasurer.  A move to Fort Lauderdale in 1996 was precipitated by his relationship as a collared boy to Bearman, the co-owner of LeatherWerks, and as custom tailor in that company.  October of that year also saw the first offering of the Dungeon series of educational events produced by Leather University, with Lawrence acting as Secretary.  In 2000 he took over presidency of the organization to continue producing the event for another 5 years, also creating SM High (a smaller educational event specifically for gay men), and Indulgence (a small, men-only play weekend).
A return presenter at Southeast Leatherfest and new kink presenter at Gay Naturists International "Gathering", he was a founding member of the Young Leathermen of South Florida, member of Delta International, Minotaurs of South Florida, Treasurer of NLA Florida, resident Dungeon Monitor for SPICE Ft Lauderdale and Secretary/Webmaster for the Leather Archives and Museum (located in Chicago, serving the world).  He has presented workshops for numerous Florida leather bars, clubs, and organizations; of particular pride is his involvement in GoLeather, a pansexual group for newcomers to the leather community in Ft Lauderdale, and presenter for the New Guard chapter of SPICE.
Lawrence no longer works as a leather tailor but as radiology/cat scan tech in overly sunny South Florida.  He is a voracious reader of all print material within reach, irreverent news junkie and has a fondness for setting hunky men on fire after flogging them or tenderizing them with pointy objects.  After fully embracing his Daddy-hood, is current motto is "I *earned* this grey hair!"
David Deblase – Den Daddy
Mr. Maryland Leather 2014
David DeBlase, Mr. Maryland Leather 2014, Mama's Bawlmer Boh hails from Baltimore, Maryland, and has been a South Florida resident for over seven years with his partner Austin and dachshund Badger.
Having worked in the nonprofit sector for many years, he transitioned to a career in project management and has been employed at Eagle Wilton Manors since it opened.
His previous work includes collaborating with establishing Team Friendly Baltimore, creating kink HIV education programs at Johns Hopkins University, event coordinating AHF AIDS Walks, and partnering with local outreach organizations in Maryland and South Florida.